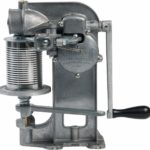 ALL AMERICAN #225 MASTER HAND CRANK CAN SEALER
All-American Master Can Sealers include equipment to seal your choice of either No.2 (307×409) or No.3 (404×414) can. Additional equipment is available for sealing other sizes; cost is approx. $175 per size, but must be quoted in each instance. The largest can size for All-American Master Can Sealers is No.3.
Features:
Crank handle can sealer
Crafted of the finest hand cast aluminum
Comes Equipped to seal No. 2 or No. 3 can
150 cans per hour
No skill or experience is required to perfectly seal tin cans automatically
Designed for use by commercial also at home
90 day limited warranty
15 lbs.
Made in USA
ALL AMERICAN #1502 SENIOR FLYWHEEL CAN SEALER
All-American Senior Can Sealers are set up to seal No.10 & No.12 cans, and can be adapted for smaller sizes.
Features
Crafted of the finest hand cast aluminum
Heavy duty automatic senior fly-wheel can sealer
150 cans per hour
Comes Equipped to seal No. 10 and No. 12 can
Designed for use by commercial, experimental laboratories, school canniers and lunch rooms
No skill or experience is required to perfectly seal tin cans automatically
For commercial and semi-commercial use
27 lbs.
90 day limited warranty
Made in USA