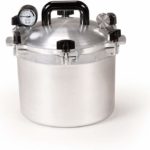 10.5 Quart
Can hold 7 standard Pint jars
11-3/4″ high and 10-1/4″ inside diameter
---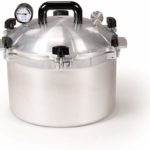 15.5 Quart
Can hold 10 standard Pint jars
12-1/4″ high and 12-1/4″ inside diameter
---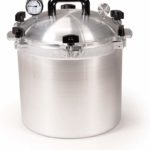 21.5 Quart
Can hold 19 standard Pint jars
15-3/8″ high and 12-1/4″ inside diameter
---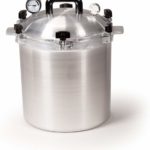 25 Quart
Can hold 19 standard Pint jars
16-3/4″ high and 12-5/8″ inside diameter
---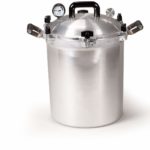 30 Quart
Can hold 14 standard Quart jars
19″ high and 12-1/4″ inside diameter
---
41.5 Quart
Can hold 20 standard Quart jars
19″ high and 15-1/4″ inside diameter
---
Key Features
Wisconsin Aluminum Foundry manufactures the premium All American Pressure Canners with the best safety features. This is the only pressure canner with the precision-machined metal-to-metal sealing system without any gasket. The canner cover and base are steam tight sealed with positive action clamping locks. The cover is easy to remove and open because no gasket is involved.
Pressure canning is the best way to can low acid foods as recommended by USDA. All American Pressure Cooker Canner has the capacity to cook and can food in large quantities like fish, meat, poultry and vegetables in a short time.
Key Features Include:
Heavy Duty Cast Aluminium construction that provides fast and even heating
Sturdy phenolic top handle – Keeps your hand safe from burns
Weighted Guage Canner – 5, 10 and 15 psi pressure regulator weight
Easy-to-read geared steam gauge
Automatic overpressure venting features for safety
Frequently Asked Questions
How many jars All American Pressure Canners hold?
The following numbers in the below chart are approximate and will vary with the jar brand and style:


Can All American Pressure Cooker/Canner be used on glass-top stoves?
No, the manufacturers of glass-top stoves usually recommend using only flat cookware and the ALL-AMERICAN Pressure Cookers have indentations in the bottom.  Also, the cooker is quite heavy and if dropped or slid across the glass-top stove, it may damage the cooktop.  You may want to check with the manufacturer of your cooking range for additional information.
What is the difference between All American Canner 921 vs 925?
Both cooker/canners hold the same number of jars for canning and the only difference is when cooking. Model 925 holds 3-1/2 quarts more in liquid capacity than 921.