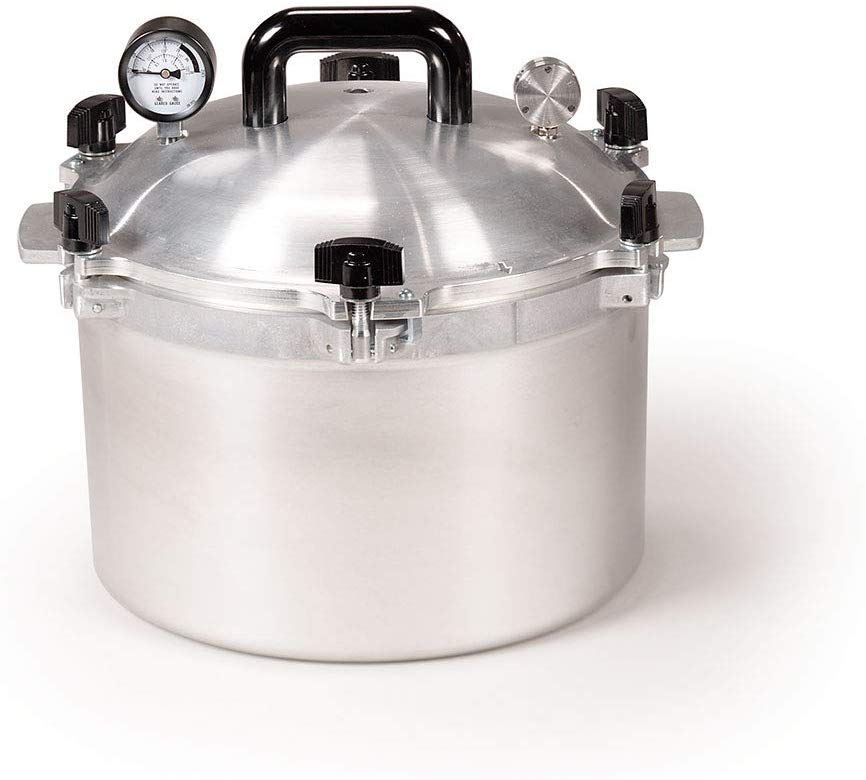 All American 915 has the capacity to hold 10 Pint and 7 Quart Jars.
Gasket Free design with a steam tight sealing system.
Heavy Duty Cast Aluminium construction.
5, 10 and 15 psi pressure regulator weight.
Comes with automatic overpressure venting features.
All American 915 is a 15.5 Quart pressure canner and pressure cooker which can accommodate 10 Pint Jars and 7 Quart Jars of standard size. It falls in the small size category of All American pressure canner models and ideal for home canning meat, poultry, fish, and vegetables. You can now easily cook and preserve juicy steaks, chicken breasts, and many other prepared meals with this canner.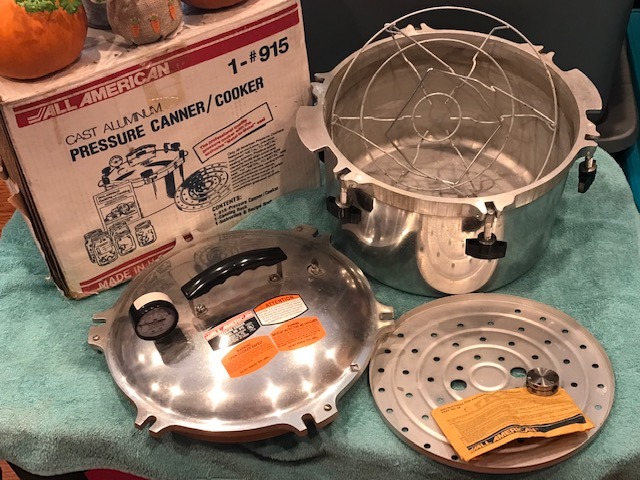 All American 915 is a Gasket Free Pressure Canner and has a metal to metal sealing system which prolongs life. Positive action clamping locks align the base to the cover forming a steam tight seal. The phenolic handle on the top helps to easily open and close the lid and keep your hands safe from burns.
Heavy duty cast Aluminium construction of All American 915 pressure canner provides fast and even heating and maintain the high pressure. The smooth satin finish makes it easy to clean. The edges of the pressure canner have a double thickness to protect from wear and tear.
All American 915 has both the dial gauge and weighted gauge. The weighted gauge is the primary reference for maintaining the pressure and the dial gauge will help you monitor the pressure inside the canner. There is an automatic overpressure release by the safety control valve.
All American 915 Specifications
Capacity: 15.5 Quarts (Liquid), 7 Pint Jars, 4 Quart Jars
Inside Diameter: 12.25 inch
Inside Height: 7.5 inch
Overall Height: 12.25 inch
Weight: 15 lbs
Warranty: 1 Year
Color: Silver